THE

LUFOIN

REGISTER

Published by The Leicestershire UFO Research Society (Est. 1971)

Edited by Graham Hall & Jeff Lord

Report Review

___________________________________________________________________________________

Expanded Sighting Report Data - Selected Cases

1994 - 2003.

-1995 -

CASE/COMPUTER REF: 51-95-02.

STRANGE AERIAL DISPLAY AT HINCKLEY TRAIN STATION

January 26th., 1995, 18:00 Hours.1995. Brookside, Burbage, Leicestershire, UK. Geo.

B1.

Several bright lights were observed rising into the sky from a glowing dome-shaped near- grounded object by a man in his 20's.- A strange, buzzing sound was heard.

 

Witness Statement:

"I was walking along Rugby Road towards Brookside when I saw to my left, a very 'white dome-shaped glow, I was curious to what could be causing it, so, I walked back up Hawley Road, the direction I had come from, to the Hinckley Railway station bridge wall. As I did so, I could hear a strange buzzing noise, but thought nothing of it until it quickly faded but the glow remained. I tried to locate its position by walking around the back of the Food Giant supermarket. I was about to walk towards the car park wall to get abetter view, when a man in a suit, together with a woman, came towards the nearby recycling bins and began putting newspapers in them. The bins were next to their car. The woman began looking at the glow and then at me. She said, 'what on Earth's that?' or something similar, but before I could say anything the man told the woman to get in the car. This she did, and the car sped away from its parked position. I went back to the wall again, and with the glow still visible, I now noticed bright lights rising from the glow, three in all, which, when they reached a certain height, began to move very slowly from left to right. One stayed away from the other two, and after a few seconds, suddenly vanished. At this point the glow began to fade."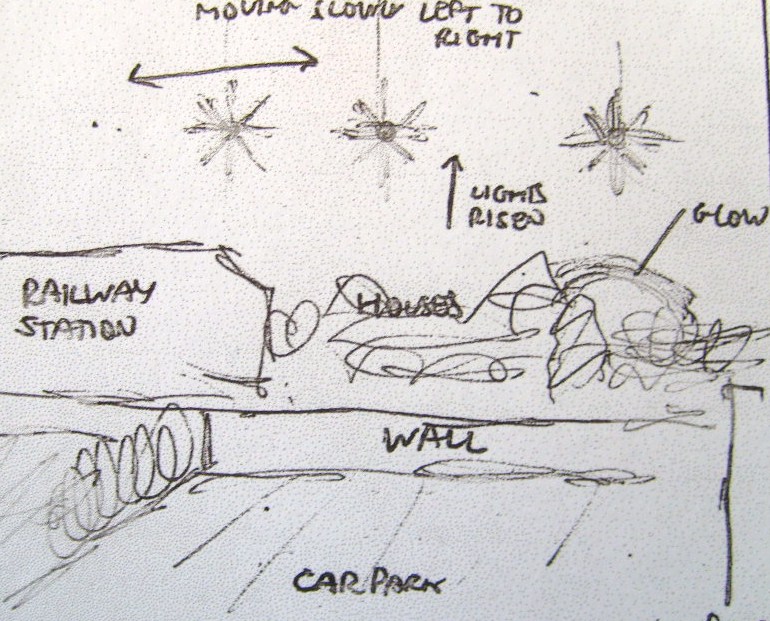 FIG. 1. The scene as drawn by the witness, showing the main vantage point of the sighting on the 'Food Giant' car park, which is situated close to Hinckley Railway Station. The three rising/slow moving lights were described as hovering above the Brookside playing field area before vanishing.
BELOW: Photographs A and B; View from witness's vantage point looking south towards Brookside, Sketchley Hill Estate. Pen placed on wall of car park with point directed towards where the 'glow' appeared
A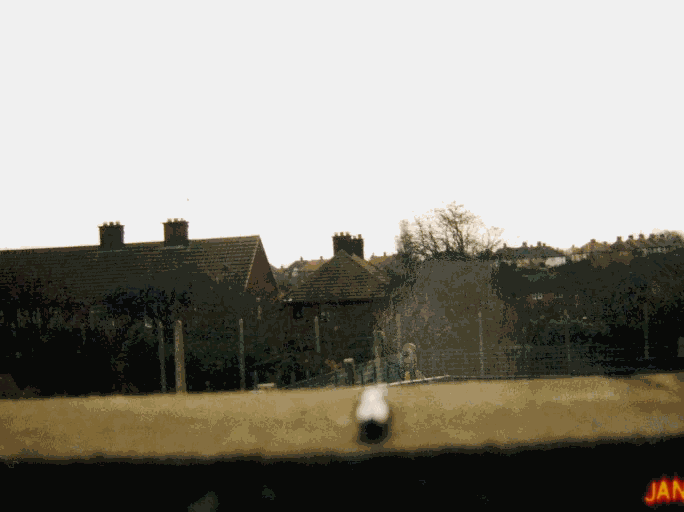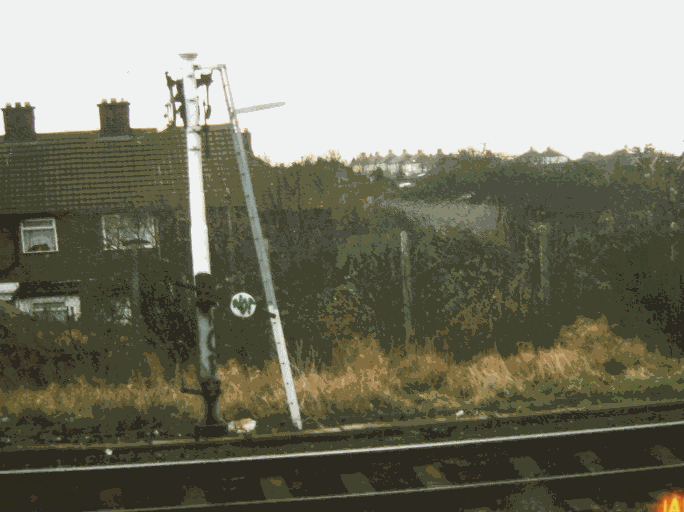 B

In summary

The fact that a 'buzzing' or 'humming' noise was heard at the first part of this particular observation is interesting, with the lights involved seemingly being produced as part of an electrical discharge of some kind. This 'buzzing' is described by the witness was stated as being quite loud at first, but then is noted to 'fade away' before several smaller lights appeared to be ejecting into the sky above the main 'light', that floated around for several minutes before gradually fading out one by one.

This is a well investigated case, in which follow up house to house enquires were made, and several press articles appearing in the local press in search of further witnesses. Due to this extra effort, it was ascertained that at least another six people saw the lights and/or heard the 'buzzing' noise, but none were prepared to sign written statements regarding their own particular experiences that evening.

In a further attempt to try and solve the case, a theory was introduced into the investigation that welding equipment may have been in use at the time of the sighting in the back garden of one of the houses situated close to the sighting location. However, the theory was eventually quashed as a result of additional enquiries, and, as a result, the case was finally closed and labelled 'unsolved' by investigators at the end of May.

 

Media Coverage:

Strange Sighting - The Hinckley Times, Thursday, February 2nd., 1995.

A UFO has been sighted by a group of people getting into their cars on Hinckley's Food Giant car park. A glowing ball of light was spotted hovering while making strange buzzing noises and throwing smaller luminous balls of light into the sky only a few feet from the ground over the nearby railway lines. Investigators have checked the area since the sighting of the object but have found nothing to explain its appearance or disappearance. The Leicestershire UFO Study Project is appealing for anyone else who witnessed the sighting to contact them. (51/95/02). (8).

 

Maps:

Brookside.




Also see:

S-HF-HIN-01

.

 

BELOW: Same Date Global Reports, UFODNA Data, January 26, 1995.

19:00 - West South Port, Maine, USA.

19:00 - Concrete, Washington, USA.

23:31 - Grimstad, Norway.

__________________________________________________________________

All digitally re-produced material contained within the LUFOIN REGISTER, is subject to copyright and is intended for personal research use only, and all rights to it are reserved. No part of the same may be reproduced or duplicated in any form or by any electronic or mechanical means, including information storage and retrieval systems, or distributed for commercial gain or profit without prior permission. All opinions expressed and/or recorded within the LUFOIN REGISTER, are not necessarily those of LUFORS, the Leicestershire Unidentified Flying Object Investigation Network, or its members. Originally established in 1971, network members ,

the Leicestershire Unidentified Flying Object Research Society

,

are a non-profit making organisation run by volunteers and funded totally by donation. All monies received are directly used towards private UFO investigation and research work conducted within the U.K. regional counties of Leicestershire and Warwickshire. All inquiries and/or reports to:

Lufoin@gmail.com

.

<<

Homepage

|

Main Index

|

Observations Log 1994-2003