THE

LUFOIN

REGISTER
Published by The Leicestershire UFO Research Society (Est. 1971)
Edited by Graham Hall & Jeff Lord
Report Review
___________________________________________________________________________________
Expanded Sighting Report Data - Selected Cases
-1977-
CASE/COMPUTER REF: 51-77-03.
THURMASTON CRICKETING ENCOUNTER
Wednesday, May 11th., 1977. 21:45 Hours.
SK 625 085
Geo. B2 - C.
During the evening of May 13th., 1977, I received a telephone call from a Mr S of Spencer Avenue, Thurmaston, regarding the sighting of a Light in the sky he had observed on the previous Wednesday, the 11th., in daylight at around 8.45 p.m.
I made arrangements to visit him on the following Sunday afternoon. The object he witnessed was a brilliant ball of white light, possibly reflected, that moved along the horizon in the East, and then shot abruptly upwards and disappeared within seconds.
After talking to Mr. S, I decided to walk around Thurmaston asking various people along the way if they had seen anything unusual in the Eastern sky during the previous week. All of them said they had not. I was about to give up when I saw a group of children playing on some waste ground. It was a long shot, but I thought I'd ask them if they had been playing there the previous week. They had not but asked me why I wanted to know. I told them that I was investigating a light in the sky report. One of the youngsters then stepped forward and said that one of his friends had claimed to have seen a "flying saucer" during the previous week. I met the boy in question, a Lance C of Beacon Avenue, Thurmaston, and, with his father present, he related the following to me which was corroborated later by Adrian and Neil D, and Their parents, Mr. and Mrs. D.
"
We had been playing cricket on a field at the back of our home on Colby Drive when we heard a humming noise above us. We looked up and saw a bright shiny
'
saucer
'
shaped - object some distance away that was heading towards us
."
The object circled a light aircraft before flying towards the children, and, as they looked, it turned black and disappeared. The time was 8.45 p.m.

Meanwhile, Adrian and Neil
'
s parents had been watching from their house. Mr. Graham D gave the following account:-
"
It was hovering over the field, I should say a couple of miles away, when all of a sudden it was like one bright light and seemed to shoot and hover above the fields where the kids were playing cricket, and then the next minute it went across our place, and then stayed there for about a minute and then it had gone, no noise whatsoever. Then the kids came running off the field where they had been playing cricket, it had frightened them, they said they had seen a
'
spacecraft
'
or something, and then Adrian drew a diagram of it . I didn
'
t see any shape but there was definitely a light out there
."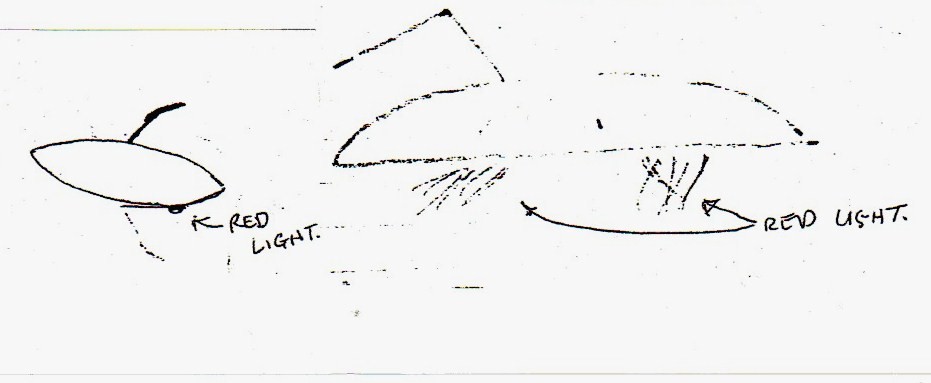 ABOVE: Drawings of the Thurmaston UFO by witnesses Adrian C.(left) ,and right, Lance C.

Investigator's Comments:-

Mr. S's report of a 'light in the sky' became a classic daylight disc report and I agree with the witnesses that they did indeed witness something unusual that warm spring evening, and that something forms part of the "May flap" that was occurring in the U.K. at that time.

Subsequent enquiries to the local Police, airfields etc. drew no further reports, the aircraft was never traced.

Map:

Spencer Avenue




See also outside link:

The 1977 UFO Chronology

.

 

BELOW: Same Date Global Reports, UFODNA Data, May 11, 1977.

03:00 - Clearfield, Pennsylvania, USA.

04:45 - Fresno, California , USA.

Around 1500 - Christchurch Nw, New Zealand.

21:45 - Bonner Springs, Kansas, USA.

After 2300 - Copacabana, Brazil.

 

Also see:

Bufora Journal.

___________________________________________________________________________________

All digitally re-produced material contained within the

LUFOIN REGISTER

, is subject to copyright and is intended for personal research use only, and all rights to it are reserved. No part of the same may be reproduced or duplicated in any form or by any electronic or mechanical means, including information storage and retrieval systems, or distributed for commercial gain or profit without prior permission.

All opinions expressed and/or recorded within the LUFOIN REGISTER

,

are not necessarily those of LUFORS, the Leicestershire Unidentified Flying Object Investigation Network, or its members. Originally established in 1971, network members ,

the Leicestershire Unidentified Flying Object Research Society

,

are a non-profit making organisation run by volunteers and funded totally by donation. All monies received are directly used towards private UFO investigation and research work conducted within the U.K. regional counties of Leicestershire and Warwickshire. All inquiries and/or reports to:

Lufoin@gmail.com

.

 

Main Index

|

Observations Log 1954-1977